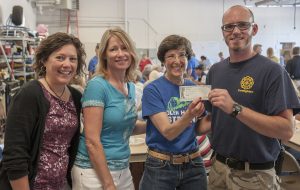 With the funds from Rocky Card sales this summer, Rocky Card owners Debra Dullaghan and Anne Smith were able to make their largest donation ever when they presented a check for $5,000 to the Glen Haven Area Volunteer Fire Department.
The September 2013 flood damaged or destroyed many roads to residences in the Glen Haven area. The money from the Rocky Card gift will provide for one month's rental of a track hoe that will help repair roads to make homes safely accessible.
Glen Haven Fire is also accepting donations to help continue the area road and bridge repair on the department website at www.GlenHavenFire.org.
The Rocky Card has given more than $50,000 to nonprofit organizations since 2008, with the goal of each donation being to make a difference within the community that supports their efforts.
The premise behind the Rocky Card is that local businesses who are Rocky Card members attract customers by offering discounts or other incentives to cardholders. Visitors and Estes Park locals purchase a Rocky Card for $10 to access the discounts, and Dullaghan and Smith donate the profits from the sale of the cards to local charities.
Merchants who participate in the Rocky Card program agree that the Rocky Card has improved sales, gained customer awareness, and provided local charities with much-needed funds. With the Rocky Card, everybody wins!
Rocky Cards may be purchased from many merchants around Estes Park, including The Village Store at National Park Village, Estes Park Mountain Shop, Estes Park True Value & Radio Shack, Rocky Mountain Gateway, the Estes Park Visitors Center, and Safeway. A complete list of locations, as well as a list of the merchants that offer Rocky Card discounts, is available at www.RockyCard.com.
The success of the Rocky Card could not be possible without the support of its promotional partners, which include Estes Park News, EPTV Channel 8, Reel Mountain Theater, and Hobert Office Services.